PIG Cultural Real Property Inheritance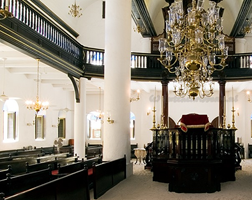 Purpose
The Foundation shall be active as is generally useful, and has mainly as its purpose the maintenance of the national monument made up of the Portuguese-Israelite synagogue including associated buildings located on the Mr. Visserplein in Amsterdam, which constitute the foremost part of the cultural inheritance of the Portuguese-Israelite congregation in the Netherlands, and also shall ensure the maintenance, the administration and the accessibility to the public of the cultural inheritance of this congregation, and further has as its objective everything in connection with the preceding, what may flow out of it or what may be instrumental to it.
The Foundation is non-profit and carries Culturele ANBI status.
It was established in October, 2003.